The Spinning Siren Mystery


Some of you might have noticed a Spinning Siren in our midst.

She sometimes spins in a charm in front of the goddess Lalita on the Eventus Island. She has been sighted elsewhere in KoS too.

What seems specially strange is that she is attired as a pirate. Is she a pirate? Or is she a Mer?

A L$ 1500 and $G 1000 reward have been placed on the one who finds out WHO has placed the charm on the Spinning Siren.

Albaicini, Ireem Reporter

Please post your answer to the Knight investigating Mystai (lyricsirena resident), with an NC titled with your SL User Name and your character name, and RP that shows how you would find out, no matter how brief.






Saturday, July 25th
13.00 PDT SLT
At the Arabesque Cafe

" Bollywood Contest "
spirits of India
Show us your pink, yellow, blue and green Saris , your sleek black hair , face and head jewels and your best smile and dance.
Bring your friends , wiggle your necks to a funny Bollywood dance.
Grab your partner and seduce us with a Kamasutra show.
Bring your veena, sitar or drums or sing your song.
Prices for best performance , appearance , music and role play !
1st price : 1000 L$
2n price : 500 L$
3rd price: 300 L$
We hire dancers and musicians for 500 golds per day!!!
Please talk to the Arabesque Managers Faathima ( lolllita ) or Atossa ( herminetic )
Welcome to Ireem's STREET MEATS FOOD STALL!!!
Located up at the auctions and trial area we are pleased to serve you our delicious grilled kebab sticks.
We offer daily fresh fish right from the North Sea - grilled or cooked with rice.
Our beer comes from old English breweries and is served cold.
We even offer fresh mint tea - for those who don't drink alcohol.
The street meat food stall is famous for good quality and fresh tasty food ,
We are liked by most citizens in Ireem. This is the reason, why we are able to reduce our prices now.
Come visit us ! You will find no better food in the Kingdom of Sand !!! Guaranteed - or you get your golds back!
Our Menu:
Grilled or cooked Fish and rice 2 G$
Kebab sticks with ham and figues 2 G$
Old England Brewery Beer 2 G$
we offer fresh fruits and vegetables for free.
Bon Apetit and cheers!!!
Faathima ( LoLLLita Resident )
- owner -
Pictures (and website the pictures are from) by: Atossa
Information from: Faathima

Arabian night performance contest:
First Place and 1000L:
Pasha Penucca


Second Place and 500L :

Eve Forgraine


Third Place and 300L:

Atossa
Topless contest winners:
Tie for first, and 750 L$ each:
Siya and Dusty
Next place, and 500 LS:
Atossa


There was even had a guest dancer, her name is larablood. She is one of the Bellydance goddess group dancers ( She would have been mentioned, but she is nor a regular KoS player )
Daenerys, Spangle and Tygeriz also one prices during this fun filled evening of dance!
Big congratulations to everyone who took part in and organized this event! Hope this won't be the last? Stay tuned for pictures of Eve!
Dance Competiton organized by Faathima, Leader of the the Maledictus Inmortuae Clan
Contestant and Photographer: Atossa
Pure
Contestant Tygeriz:
Dance a la Plume
Contestant: Dusty Sandstorm
Arabesque Cafe Bouncer: Damien
Fire Dance
by Daenerys Fireborn
Violin and Dance: Spangle Exnno
Encore via Atossa!
Doug Nighteyes showed up late to audition as male stripper!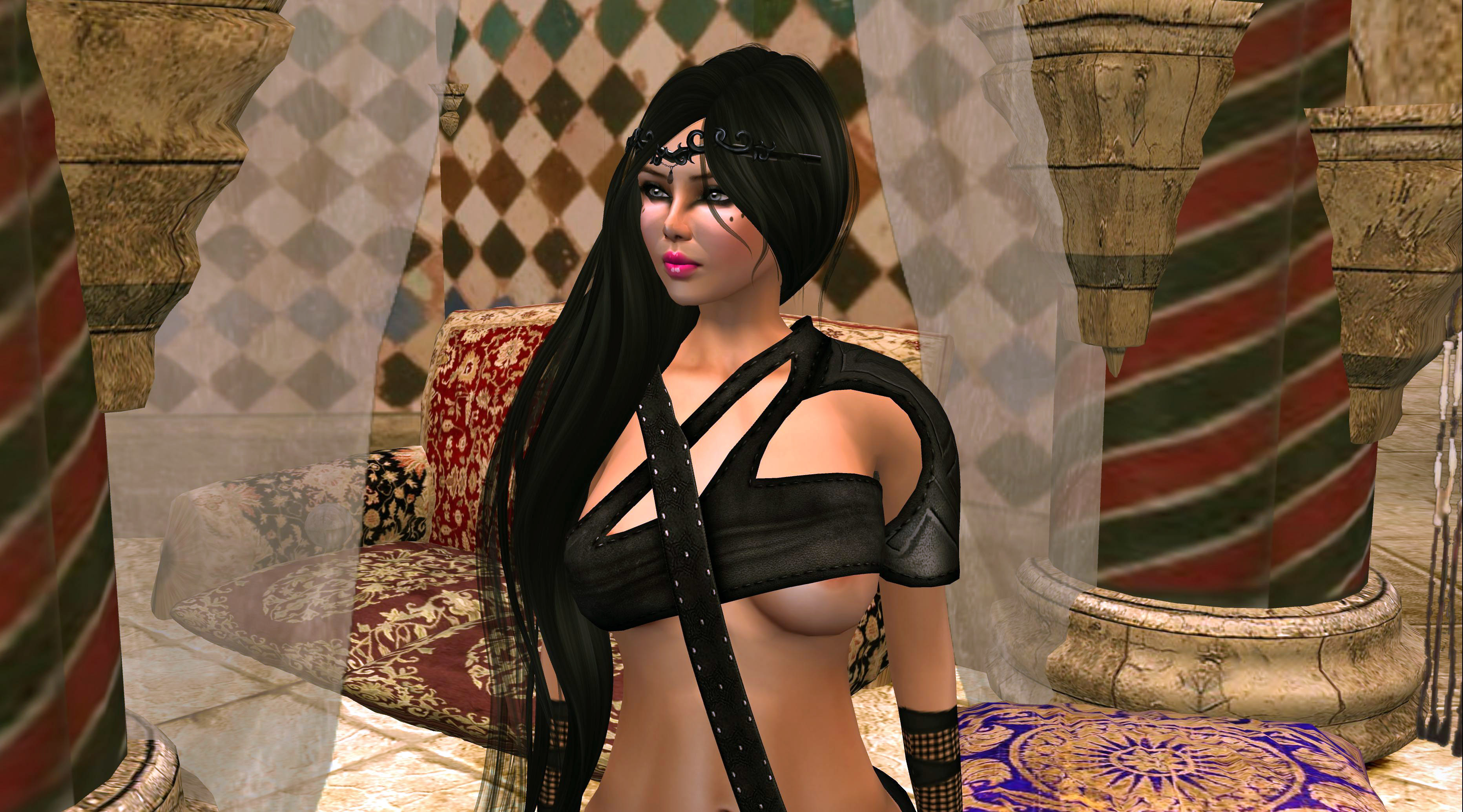 Organizer Faathima watches Doug with anticipation. (*grins*)
Brownsugar Starsmith arrives and announces that she wants to examine Doug...
... claimes that she is a Physician!
Doug puts his pants on but otherwise shows no resistance...
Then Pasha finally arrives to have her pictures taken
Pasha's Dance
a la Plume
Pasha looks like she has walked straight out of an Orientalist painting.